COMMERCIAL AIR CONDITIONING
Majestic Air Conditioning have been installing and servicing commercial air conditioning solutions for over 20 years. Our experience is well known throughout the Sydney region where we continue maintain a close relationship with our customers for ongoing support and maintenance requirements.
VRV IV Heat Pump
An advanced Variable Refrigerant Volume Air Conditioning System with a wide product offering to suit the HVAC requirements of larger buildings.
VRV IV Heat Pump is Daikin's answer to the next generation of variable refrigerant volume air-conditioning systems. The VRV IV Heat Pump offers greater
design flexibility, improved energy performance with the introduction of Variable Refrigerant Temperature control, superior comfort and reliability of operations to meet the needs of the modern commercial building.
Utilizing the latest advances in Refrigeration and Air conditioning Technology coupled with an innovative mindset, Daikin's VRV IV delivers improved efficiency, performance and now incorporates state of the art energy saving technology. Daikin offer models with a capacity of up to 168kW, connection of up to 64 indoor fan coil units, a connection ratio up to 200% (conditions apply), outside air treatment options and a range of BMS options to adapt to the operational and climate demands of the everyday modern building.
Features
VRV IV HP units operate in either cooling or heating mode from a single system
Up to 64 indoor units can be connected to a single outdoor system
Continuous operation -5 to 43°C Dry Bulb in cooling mode and -20 to 15.5°C Wet Bulb in heating mode
High External Static Pressure (ESP) of 78.4Pa on condenser fans
Use of new high tensile strength material and Thixocasting manufacturing process has enabled the development of a new compact and efficient scroll compressor, i.e. 12 class (33.5kW) compressor utilizing 8 class (22.4kW) casing. Daikin's optimized large capacity inverter scroll compressor designed specifically for R-410A is compact, quiet and highly efficient
Daikin's new compressor utilizes a 6 pole motor instead of a 4 pole motor with 50% more neodymium magnets to improve efficiency and reliability
Refrigerant Cooled PCB to ensure reliability, stability and longevity of the unit under the harsh summer heat
Daikin's system management and oil-equalizing technology ensures maximum reliability and design flexibility of the system, with piping runs of up to 165m with maximum level difference of 90m between indoor and outdoor units (via field setting only) and a total networked length of up to 1,000m.
Low operation noise, a result of efficient heat exchanger design, streamlined air grille and re-designed scroll condenser fans
Anticorrosion treatment applied on exterior metal casing and heat exchanger
Fully compatible with the complete Daikin control suite including the Intelligent Touch Controller, the Intelligent Touch Manager, and the LonWorks® and BACnet® gateways
MAJESTIC AIR
CONDITIONING
Maajestic Air Conditioning is an award winning company with a reputation for consistent project delivery for all of our valued customers.

Variable Refrigerant Technology
Daikin's VRV IV now features Variable Refrigerant Temperature technology (VRT), a state of the art energy saving technology that automatically adjusts the refrigerant temperature as the building load varies to maintain optimum comfort conditions whilst keeping operational costs low.
High Energy Efficiencies, EER & COP
With VRV IV, Daikin has made significant improvements from its predecessors in the area's of energy efficiency, responsive climate control and monitoring systems, thereby enabling property managers to better administer the operations of the air-conditioning systems. Daikin's VRV IV delivers high COP thanks to innovative features such as VRT, advanced J series compact inverter compressor and improved streamline airflow design.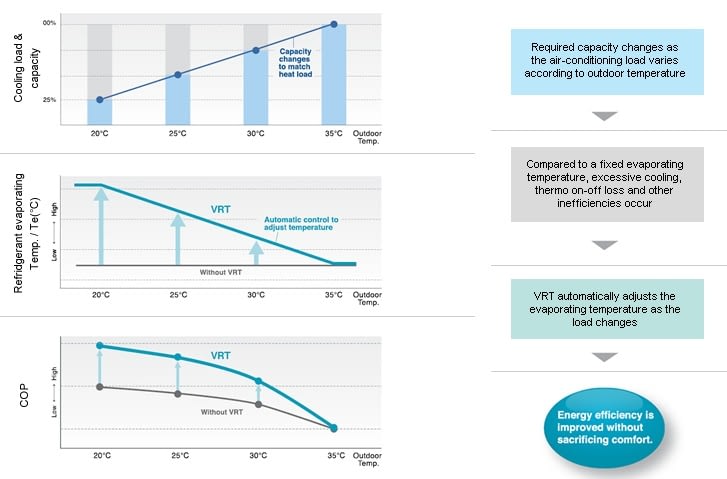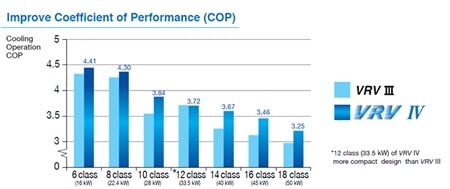 Daikin's VRV IV is now available in three different series, Standard, High-COP and Space Saving Type models:
Standard: Offers high capacity with models ranging from 16kW to 168kW, ideal for large commercial applications.
High-COP: Designed with priority in energy efficiency, models range from 32kW to 140kW to accommodate the most modern energy efficient buildings targeting a high NABERS rating.
Space Saving: Compact Design, models range from 50kW to 140kW where the condenser footprint or the need to minimize the architectural impact is a priority.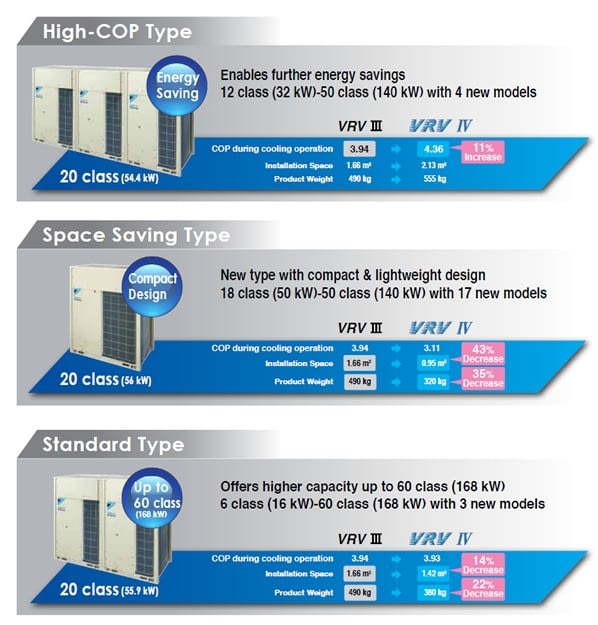 Majestic Air is our first choice for anything air conditioning. We cannot recommend Majestic Air Conditioning highly enough.
In 1982 Daikin launched its first Variable Refrigerant Volume (VRV) air conditioner, since then Daikin has continued to invest heavily in research and development, leading the way in air conditioning technology and innovation with each generation of VRV systems bringing new and improved models and a wider product pool to suit the ever changing market diversity.
The VRV IV is the epitome of Daikin's commitment to continuously innovating and enhancing the range, performance, reliability and flexibility of our VRV air-conditioning systems. The result is a total variable refrigerant volume air conditioning solution with large outdoor capacities, compact design, flexible installation and state of the art energy saving technology (VRT) with greater efficiency than ever before.
Large capacity inverter scroll compressor made with high strength material and utilizing a thixocasting process housed in a compact casing, 12 class (33.5 kw) compressor utilizing an 8 class (22.4 KW) case.
Thixocasting allows the adoption of a thin spiral design, the compression volume is increased by 50% enabling greater performance gains.
Compressor uses compact concentrated motor windings, resulting in smaller coil ends that help reduce winding resistance and improve motor efficiency at Low RPM range. This is a key factor that contributes to VRV IV high COP while being able to maintain low operation noise, optimal comfort and climate conditions.
Daikin's jump from a 4 pole motor to a 6 pole motor with 50% more neodymium magnets from previous models is able to efficiently deliver more torque and operate at greater efficiency particularly at low loads.
Low operation noise thanks to an increase in heat exchanger area coupled with a stream line grille design and scroll fan that promotes swirling airflow discharge to reduce vibration and pressure loss.
Increase heat exchanger surface area of up to 24% over previous models for greater heat transfer efficiency while maintaining a compact installation space.
VRV IV Inverter Power Module is Refrigerant cooled compared to its air cooled predecessor which results in more reliable operations particularly under high ambient conditions where system integrity may be affected.

VRV IV Inverter PCB allows stepless frequency control of the compressor from 60 to 408Hz allows precise control to match the required capacity to load and in turn improving energy efficiency.
Auto-Sequencing Technology: VRV IV unit sequencing operation is automatically enabled on startup and after each 8 hour period of operation to ensure balance operation of each outdoor unit to improve compressor longevity and stability.
Download Brochure
You can download the latest VRV IV Product Brochure
Download Technical Documents
If you are a registered commercial user or a Daikin Dealer, you also have access to a full range of technical and support materials, including Engineering Data, Service and Installation Manuals via the Daikin Secure Portal.